Venue
The Congress will be held at the "Porto Antico Congress Center" in the heart of the old harbour, adjacent to the Genoa Aquarium and Renzo Piano's "Bigo" and "Bolla Tecnologica", on Thursday and Friday, 17-18 September 2015.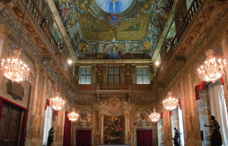 The Congress Opening on Wednesday, 16 September, (Assembly of the Council of Physiology Professors, Opening Lectures and Welcome Reception) will be held in the nearby historical University Palace built in 1600 and located in Via Balbi together with the Royal Palace and other wonderful historical buildings (Palazzi dei Rolli). On 16 September, the Registration Desk will be located at the University site; for the rest of the time, it will be at the Porto Antico Congress Center, in proximity of the Lecture Rooms Scirocco, Libeccio, Levante and Ponente. Lunches, coffee breaks and poster sessions will be at the Congress Center, while the social dinner will be held at the adjacent Genoa Aquarium.
Getting there
The two sites of the congress are within walking distance (5-10 min maximum). The University Palace, Via Balbi 5, is 100 m from the Piazza Principe Train Station and can be easily reached by a short walk from most of the suggested hotels. To get to the "Porto Antico Congress Center" just follow the signs for the Aquarium/Porto Antico/Congress Center. If you have the challenging idea to come to Genoa by car, make sure your hotel has a parking lot. Parking slots at reduced fares for participants (€ 6.50/24 h) will be also available at the Congress Center. After that, we suggest to forget about your car and enjoy the city by foot.
Please wait... Checking Javascript functionality


If you continue to see this sentence for more than 20 seconds,
please enable Javascript in your browser.

The advanced functionality of this site depends on Javascript. We are sorry, but the contents of this page cannot be displayed by your browser in its current state.

For instructions on how to activate Javascript in your browser, you may try this link (you will be re-directed to a website not associated with Azuleon but, last time we checked, the instructions there were clear and accurate).

For any further assistance, please contact the Azuleon webmaster.